The other day I told you I would share what I am doing now to take pictures since watching the video. So, tonight I took some detail photos to show you what I do. I don't know about you, but I tend to create late at night and then with going to school in the morning...I find it very difficult to get pictures during the day. For me...it is a necessity to find a way to take "good" pictures in the dark at my house.
I turn my fluorescent light in the bathroom on, my bedroom light and my hall light. This is where I take the picture.
I didn't do anything except resize, sharpen to 13 and auto fix this picture in picnik.
So, this is what my set up looks like. Do you see how there is a shadow on the background. I just move the card forward until that is gone before I take the picture. I use the dull side of the white poster board and no flash.
Based on
Margie's comment
...she wanted me to try this. What I did was use more posterboard and wrapped it around. I folded it to make a small little hole in the corner where it was "kind of like" in a box. The next time I am going to fold the other one that I have wrapped around the sink, so it's closer to the project. I think that will make a difference also.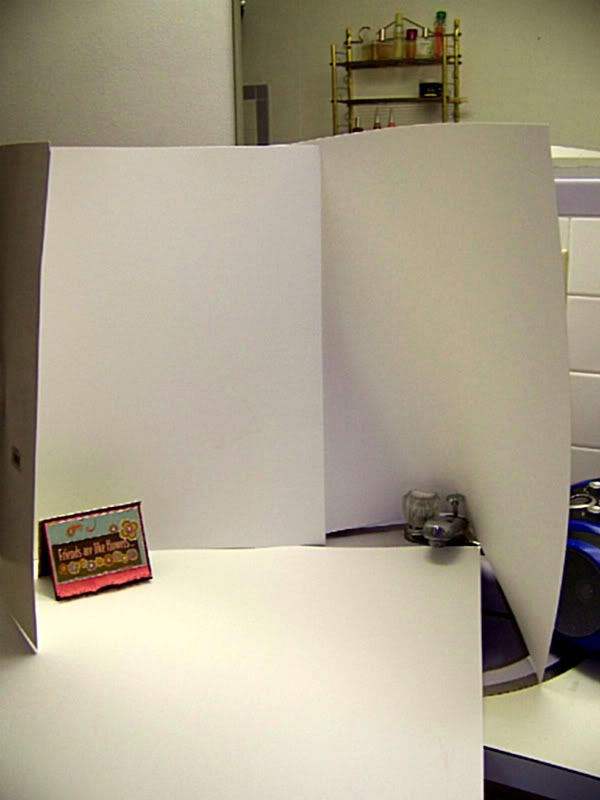 This is my photo...cropped, resized auto fix and sharpen to 13.
Here's the new one...
And this is the close up.
And the new up close shot...
Can you see the difference? Thanks so much Margie for the suggestion!
Hope you are having a scrap happy day!!!