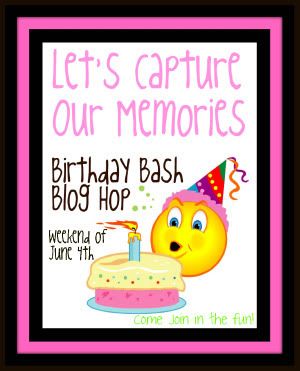 Let's Capture Our Memories
is turning
ONE
. There are some great things happening over there this weekend. To celebrate we are rocking it with a Birthday bash blog hop!!!
I've got an RAK for you filled with lots of scrappy goodies. Sorry I didn't get a picture of it!!!Here's how you can get it. Become a follower of my blog and leave a comment on this post telling me....
see this scrapbook page....
it's so NOT my style...
I usually INK it up...sand it....I refrained and tried to do the opposite...
This page is not totally finished. I need to journal. So in your comment I want you to tell me what would be hard for to refrain from doing or do the opposite of what you usually do when you are scrapping or making a card? I will pull a name on Monday June 7, 2010!
Ready for some more fun....
Stop on over to...
Lynne's blog
And the winner is
Random Integer Generator
Here are the numbers, generated with randomization from 2010-06-07:
7
Timestamp: 2010-06-08 02:27:49 UTC
which makes
Heather my winner
!!!!!